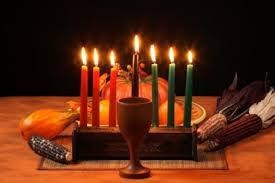 Ujima (oo-gee'-mah) – Cooperative Work and Responsibility.
We must work together to make our families and communities strong. We are responsible for ourselves and we are responsible to our communities.
What incidents of Ujima did you encounter in 2017?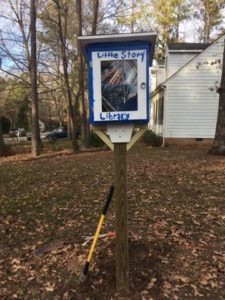 – I put up a little library in my community for book sharing.
– I work with my sister to prepare the annual, family gathering holiday meals now that my mother cannot.
– We support our local charities with donations.
-We support national political causes with our time and finances.
-I volunteer time and expertise to organizations and people locally, nationally, and internationally.
How have you worked to improve your community?
What have you done to take responsibility in your family?
Reflection:
Every day a monk would take a post, put it across his shoulders and put a water jug at each end. He would carry the jugs down to the stream and fill each one. Afterwards, he would return.
Now, one of the jugs was cracked. By the time the monk returned from his trip to the stream, half of the water had leaked out of it.
In the evening, after the monks retired, the other containers would give the cracked jug a hard time.
"You are worse than useless," said the whole jug. "Our master works hard every day to bring water for the others, and you make his labor worthless."
The cracked jug felt horrible. "I will hold myself together better, I promise."
And though he promised, every single day it was the same. By the time he returned from the stream, he was half empty.
One day, in despair, when the monk put him on the pole, the cracked jug called out, "Why do you take me to the stream every day? Why not pick one of the other jugs? I am cracked and useless. Choose someone who is worthy of your labors."
"Indeed," said the whole jug "he is not worthy of your time. Why do you bother with him?"
The Monk smiled and said to both jugs. "Look down as we travel to the stream."
When they returned to the monastery, the monk asked, "What did you see?"
"The ground," replied the whole jug.
The cracked jug noted, "On the way there, I saw nothing but dry earth, but on the way back, there were beautiful flowers."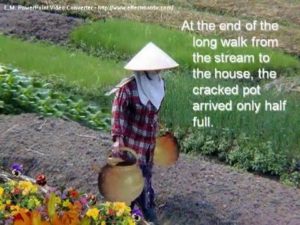 "Yes," said the monk. "When I realized you had a crack, I planted flowers all along my return journey. The water that flows from you nourishes those flowers every morning. The blooms help Brother Elgin, who is blind, find his way to the stream and back. They also feed the bees we keep,  so that we might have honey to eat and share, and candles to sell. They also bring joy to everyone who pays us a visit."
We must all do our part, and your contribution, no matter how small it seems, might be greater than you know. That is the power of Ujima.
Happy Kwanzaa!