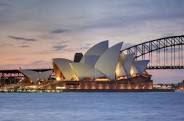 Blogging has been a very interesting experience for me. As I continue on into the years, I learn more about the insidious way my brain works.
So, I promised to blog about Sydney, but I couldn't think of anything particularly interesting to say about Sydney. Not because I didn't love it. Not because the Conference wasn't fabulous. Not because I didn't absolutely enjoy the sessions I attended, the storytelling I got to hear, the workshop I got to teach, meeting old friends and new. Meeting tellers from new South Wales, and all of the various states of Australia was amazing, and I enjoyed all of the really wonderful things that happened at that conference from the SLAM to the youth tellers. I recommend that if you can get there in 2018 – which is when they will have the next one, you should go.
Other people did all the heavy lifting right after I got home last week when I discovered I was comatose from equal parts exhaustion and jet lag.
Here is a great blog post about what happened at the conference from the blog of 'Storyteller Victoria Australia!'
I also met the wonderfully funny, well published, fascinating author Kate Forsyth, who autographed one of her trilogies to my daughter!
And yes, I got to spend the weekend with that silver tongued fox, Jeff Gere, and his lovely wife Dominique, and once again I was in close quarters with the ever brilliant David Novak.
It isn't that I don't have anything to say. It turns out that every now and then I'm just brain dead. My brain has had enough, and it just shuts down, and even though I have lots of thoughts, feelings and…as always…opinions, they get road blocked and nothing will flow. Add the incredibly bizarre election season going on right now, and politics moves into the empty spaces and takes up residence in my thought patterns, blocking any and all hope that I will have any thoughts that are not rage oriented.
So, I had a good time in Sydney, got home, slept almost constantly for three or four days, had a wonderful show at the Jung society that Saturday evening, and started Summer Reading performances on Tuesday.
I have had a blast, as I always do with summer reading. The rules are simple for summer.
1. Whoever shows up gets stories.
2. As long as the audience outnumbers me it is a show.
3. Everything is an adventure, and you never know what might happen.
So, this morning I had a show at a wonderful auditorium. I ended up with an audience of twelve adults and two children. The youngest was nine the older child was twelve. Everyone else, retired or in that neighborhood.
Told adult tales that were appropriate to kids, and a couple of great stories for intergenerational audiences. The kids had a good time, the adults had a good time. It was fun. Sold CDs, always a good sign.
Afterwards, the librarian took me out to lunch. That was the best. There were so many things we talked and laughed about over the course of one and a half hours at the River Room seafood restaurant on the waterfront in Georgetown, SC.
Sheila has been a librarian in Georgetown, SC for forty two years. She has seen some things, let me tell you. The two of us just laughed, thought, talked, and solved all sorts of problems over Asian glazed salmon and an immense bread pudding with bourbon sauce.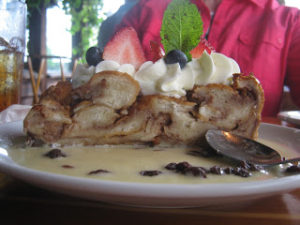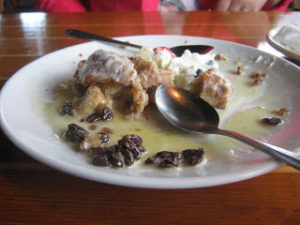 I laughed so hard at one point, I had tears coming out of my eyes. So, here are two of the tales she shared with me over lunch.
1. There is a family in their community that is 'as American as you or I', but clearly from China. They are faithful library patrons and the girls just chat up a storm. At one point they came in and there was an elderly Chinese man with them. He smiled and nodded, but would say nothing. The girls explained that he was their grandfather in from China for six months, and that he loved to read, but he couldn't speak a word of English. She asked the girls what sorts of things he liked to read, and they told her after some consultation with him.
Sheila saw that he clearly understood more than he could speak. She immediately contacted another library and set up an exchange program so that she could get books for him written in Chinese the

entire time he was in America. He would come into the library as soon as a new offering arrived and stand quietly at Sheila's desk. She'd look up and ask if he'd gotten a notice his book was in and he'd smile and bob his head. She'd go in search of it, and he would check it out. He never uttered a single word to her. He was indeed a lover of reading, and spent his visit reading through his local public library. By the time he left, he made sure his grandchildren told Miss Sheila that he couldn't wait to visit again.
We veered into talking about how important small branches of libraries are to communities, especially places where kids have little access to outside information…I have stories about this as well, but I will save them for another post.  Let us move on to the second story she shared.
2. Sheila lamented that some of our legislators don't seem to see much reason to have libraries. She recalled a recent hearing with the government officials during 'non-profit' day, when all the non-profits are forced to go before the legislature and explain why they should be funded.
An aside here…WTF?
Anyway, they are required to plead their case. One of the House Members, a fellow, stood before this group of people, held up his Apple iPhone and demanded to know why we needed libraries.
"I can get anything I need on my phone!" He told them. "Why should we continue to finance buildings and employ librarians when I have a phone with everything I need at my disposal? All of my children have phones…" he went on and on. Sheila said she just put her head down and raised her hands to her cheeks. She couldn't even look at him.
She felt someone patting her gently on the arm and turned around. A Senator was sitting behind her. He smiled hopefully and said, "Don't worry. It will be all right."
The Head Librarian in the state of South Carolina got up and pointed out that the House Member and his family were quite privileged, and that he could not base his experience on every other person in SC. There are many places in SC where families do not have internet in their homes, or access to books without their community libraries. Apparently this very articulate person had charts, graphs, and stats to back up his comments on rebuttal.
Still, every librarian in the room was feeling quite defeated. The house member gets to have a say in the budgeting process for the library, the head of libraries does not.
As the librarians were packing up to go, they noted the house member grinning as he began to gather his things only to have his wife storm up to him red faced and about to explode. In a loud voice, she began to harangue him.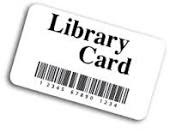 "I have never been so embarrassed in all of my life!" She shouted. "Don't you know that every single one of your children has a library card!" She demanded. "I have a library card! How dare you get up there and say something so nonsensical!" She went on and on in a fit of fury and disgust, and he just stood there staring at her wide eyed. "How Dare You!" She thundered.
The librarians were silent as they gathered their things, left the building, and went out to find a place for dinner. Over celebratory drinks they speculated where the house member would be sleeping that night.
Librarians have the best stories!
Happy Summer Reading!